So it all started at 7:30am on Sunday (September 28, 2008). This is Lakeshore Blvd. looking west from Bay St. It was shut down for runners and it's a rare sight to see it empty. If you didn't know any better, you'd think the world had ended.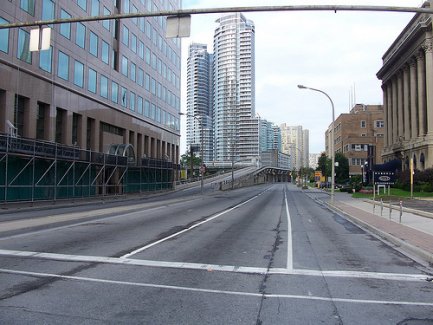 The first 25 Km were fairly easy. Then I started to get really tired and needed to fall back on will-power to keep going. Around 32 Km is the only time I saw the camera guy so I tried to act awake but don't be fooled...
I really shouldn't have raised my arms. The little burst of energy required really put me out. Good thing I practiced sleep-running!
200m to go = 42 Km passed. It gets easy again at this point because everybody's cheering, there's rock music playing and you can see the end!
The last steps, ah, what a relief! The sensors go "beeeeepppp" when you cross the finish line and it's such a lovely sound!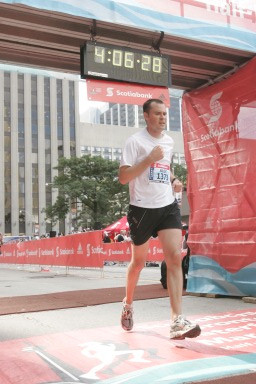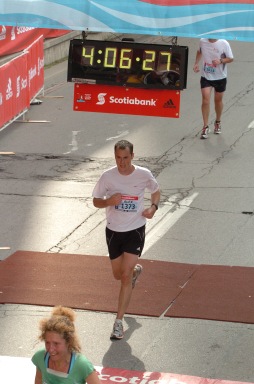 At this point it was very difficult to walk, especially down stairs. This was about 30 minutes later after a box of cheerios and a banana. Melody was really impressed by the gold medal!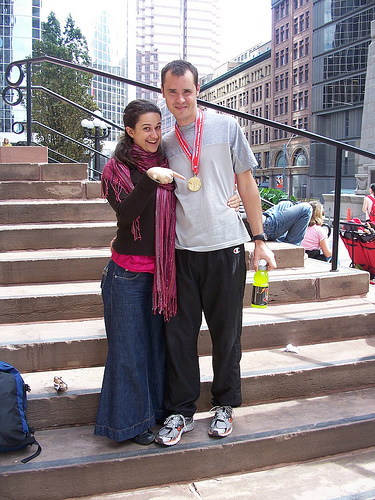 I learnt that it's possible to run 42 Km. I learnt that I can drink 2 litres of gatorade without getting sick. But the most important thing I learnt is that next time I should just follow these guys...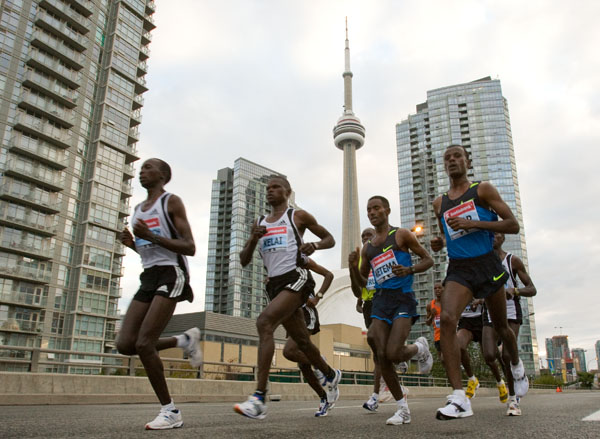 So afterwards I had to just lay in bed all day and eat junk food! It took me 3 days to be able to walk down stairs or up/down hills comfortably.
Thanks to Dan who came to cheer and from whom I stole a couple of the photos. I hope you enjoy!
Alex